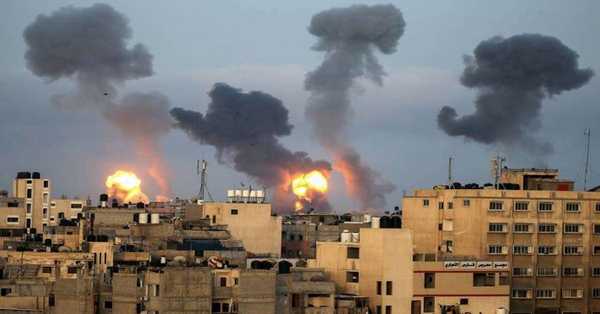 Dozens of people have been killed in Gaza and Israel since violence escalated on May 10. The current offensive is the heaviest between Israel and Hamas since a 2014 war in the Hamas-ruled region.
Israel's Defense Minister has approved the mobilisation of 9,000 more reservist troops amid fighting with Hamas and Israel's military spokesman says forces are massing on the border with the Gaza Strip. The Defense Ministry said Thursday that the latest mobilisation, approved by Defense Minister Benny Gantz, was an exceptional call-up. It comes after days of heavy fighting in which Hamas has fired hundreds of rockets deep into Israel The military has responded with punishing airstrikes.
Meanwhile, at least 83 Palestinians, including 17 children and seven women, have been killed and more than 480 wounded in the violence between Israel and Hamas, said Gaza's Health Ministry. The fatalities in Israel include a soldier killed while patrolling the Gaza border and six civilians, including two children and an Indian worker, medical authorities said.
Israel on Wednesday charged forward with a fierce military offensive in the Gaza Strip, killing as many as 10 senior Hamas military figures and toppling a pair of high-rise towers housing Hamas facilities in a series of airstrikes, AP reported.
US Secretary of State Antony J. Blinken called Israeli Prime Minister Benjamin Netanyahu to reaffirm America's support for Israel's right to defend itself from Hamas rocket attacks from Gaza. The State Department said that he stressed on the need for de-escalation of violence and the Biden administration's belief that both Israelis and Palestinians have the right to live in safety and security.
Israeli airstrikes toppled most of a massive high-rise building in central Gaza City, in the latest escalation in Israel-Hamas fighting which has killed at least 48 Palestinians in Gaza, including 14 children and three women. More than 300 people have been wounded, including 86 children and 39 women. The Gaza building collapse was broadcast on Israeli TV channels, with commentators predicting Gaza militants would respond with a rocket barrage. In response to Israeli strikes, Hamas has said it has launched 130 rockets at Israel, according to AFP.

 
Earlier in the day, the Israeli military said it has killed several senior Hamas militant commanders in airstrikes in Gaza and Khan Younis. The army released a statement on Wednesday, saying that it carried out a "complex and first-of-its-kind operation." Those targeted, it said, were "a key part of the Hamas General Staff" and considered close to the head of the group's military wing.
Israel Palestine Gaza conflict live updates: Hamas launch large rocket at Israel's second airport near Eilat - Published by The Beyond News (Breaking News)