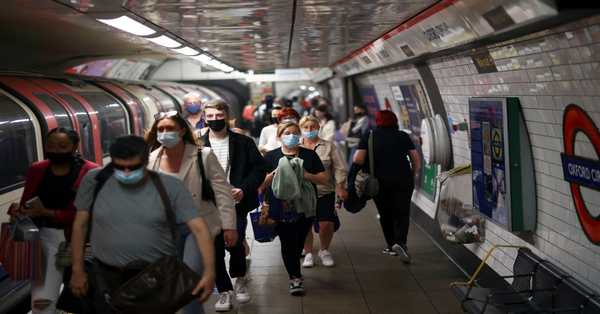 Britain recorded 39,906 new coronavirus infections on Thursday, down from 44,104 a day earlier, and 84 deaths, up from the 73 reported the previous day, official data showed.
Britain recorded 39,906 new coronavirus infections on Thursday, down from 44,104 a day earlier, and 84 deaths, up from the 73 reported the previous day, official data showed.
Daily positive cases have been broadly rising in Britain for a month but a rapid vaccination programme appears to have weakened the link between infections and deaths, with daily fatalities remaining at relatively low levels.
The data also showed that 46.43 million people have had a first dose of the vaccine and 36.59 million have had two.
The latest coronavirus news updated every day including coronavirus cases, the latest news, features and interviews from New Scientist and essential information about the covid-19 pandemic
Coronavirus infections are continuing to rise in England, with a record number of people receiving alerts from the NHS Covid-19 app telling them to self-isolate. According to the latest figures from NHS Test and Trace, 259,265 people tested positive for the coronavirus in England in the week up to 14 July – an increase of 33 per cent from the previous week and the highest weekly figure recorded since the week up to 20 January. In the same week, the number of people alerted by the NHS Covid-19 app in England and Wales increased by 16.8 per cent, hitting 618,903 in the week to 14 July – the highest weekly figure recorded to date. 
UK businesses, including supermarkets and retailers, as well as police forces, are reporting staff shortages. UK business minister Kwasi Kwarteng told the BBC on 22 July that the government would release a narrow list of jobs in which fully vaccinated people would be exempt from self-isolating.
"The reason that so many people are receiving notifications is simple, we have a highly transmissible virus that is being allowed to spread throughout the country with the bare minimum of mitigation," said Stephen Griffin at the University of Leeds in the UK, in a statement. Griffin was one of more than 1200 scientists who backed a letter published in the journal the Lancet criticizing the UK government's plan to lift most coronavirus restrictions on 19 July despite rising cases.
China rejected a World Health Organization (WHO) plan for a second phase of an investigation into the origin of the coronavirus pandemic, including investigation of the possibility that the virus escaped from a laboratory in the Chinese city of Wuhan, Reuters reported on 22 July. The second phase of investigation proposed by the WHO included audits of laboratories and markets in Wuhan. Zeng Yixin, vice minister of China's national health commission told reporters that the WHO plan "in some aspects, disregards common sense and defies science". Last week, WHO chief Tedros Adhanom Ghebreyesus said it was premature to rule out the possibility that the virus leaked from a laboratory and urged China to cooperate with the WHO's investigation.
US president Joe Biden said that children under 12 may be able to get vaccinated against covid-19 in the country by the end of August at the earliest. Pfizer/BioNTech and Moderna both started trials of their covid-19 vaccines in children under 12 in March, with results expected in the coming months. On 21 July, Biden told a town hall in Ohio that his expectation was that "some time, maybe in the beginning of the school year, at the end of August, beginning of September, October, you'll get a final approval" for vaccinating children.
Science advisers warn England may have to bring back restrictions if hospitalisations exceed predicted peak levels
Coronavirus restrictions may have to be reimposed in England in August if hospital admissions rise above predicted peak levels, according to scientists advising the UK government. Modelling by the government's Scientific Advisory Group for Emergencies (SAGE) has suggested that there will be between 1000 and 2000 hospital admissions per day at the peak of the UK's current wave, expected to be reached in mid-August. On 20 July, the i newspaper reported that if hospital admissions exceed these estimates, SAGE members advised that measures like the mandatory wearing of face coverings and recommendations for people to work from home should be reintroduced. 
According to the most recent official figures, 745 people were admitted to hospital on 14 July, up from 367 on 1 July. On 15 July, England's chief medical officer Chris Whitty said that hospital admissions were doubling about every three weeks and could hit "scary" levels.
Other coronavirus news
The delta variant of the coronavirus now makes up 83 per cent of all sequenced cases in the US, said Rochelle Walensky, director of the Centers of Disease Control and Prevention (CDC) on 20 July. "This is a dramatic increase, up from 50 per cent the week of 4 July," Walensky told the US senate, adding that covid-19 deaths in the US had also risen by 48 per cent in a week to an average of 239 per day. On 21 July, the World Health Organization said that the delta variant is on track to become the dominant variant globally in the coming months.
More than 4300 people in India have died of a rare fungal infection called mucormycosis, which mainly affects immunocompromised people and has recently been seen in covid-19 patients treated with drugs that suppress the immune system. India has recorded 45,374 cases of the infection, also referred to as "black fungus", said health minister Mansukh Mandaviya, with the states of Maharashtra and Gujarat worst affected.
About half of Australia's population is under a coronavirus lockdown, with stay-at-home orders now in place in South Australia, Victoria and parts of New South Wales. According to Our World In Data, 11.4 per cent of Australia's population was fully vaccinated as of 20 July, compared to 53.4 per cent in the UK and 48.3 per cent in the US.
People who develop a weaker antibody response to the coronavirus and those who become more severely ill with covid-19 may be more likely to develop long covid, according to a small study. The study followed 146 people with covid-19, about 10 per cent of whom were still experiencing symptoms after two months. The study, published in the Journal of Clinical Immunology, also found that long covid occurred more frequently in females compared to males.
Coronavirus deaths
The worldwide covid-19 death toll has passed 4.12 million. The number of confirmed cases is more than 191.5 million, according to Johns Hopkins University, though the true number of cases will be much higher. According to Our World In Data, 2.08 billion people globally have received at least one dose of a covid-19 vaccine.

UK reports 39,906 new COVID cases and 84 deaths on Thursday. - Published by The Beyond News (Breaking News).