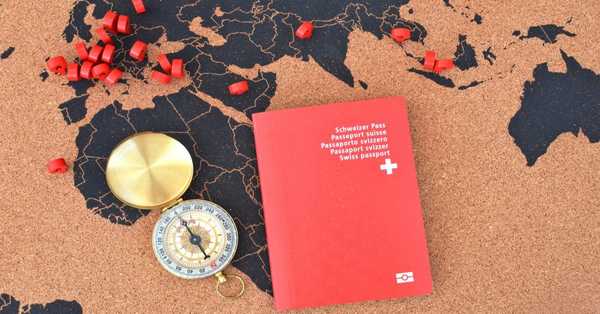 The most international of Switzerland's cantons and cities 46 percent of Geneva residents are dual citizens people who obtain the Swiss passport while still maintaining the nationality of their place of origin.
With over 200 international organizations — including the United Nations agencies and numerous NGOs — located on its territory, it is understandable that about 40 percent of Geneva's permanent population of just over 620,000 is foreign. 
And 46 percent of the Swiss population aged 15 or over residing in Geneva has dual nationality, by far the highest rate in the country, according to both federal and cantonal statistics.
This chart from the Federal Statistical Office (FSO) shows that Geneva is far ahead of other cantons in the number of bi-nationals.
The Federal Statistical Office (FSO) of Switzerland has announced that, in 2019, almost a million of the country's resident population were dual Swiss nationals. The share of the dual passport-holders increased from 14% to 19% between 2010 and 2019. Simultaneously, the naturalisation rate dropped by 3.2 per cent in 2019 compared to 2018.
Of these, 35 per cent had dual citizenship at birth, while 65 per cent became Swiss citizens through naturalisation. The most common second citizenship is the Italian one (24 per cent of dual citizenship holders), followed by French (11 per cent), German (9 per cent), and then Turkish, Portuguese, Serbian and Kosovan.
Almost 60 per cent of the French-Swiss became dual nationals at birth, compared to 44 per cent of the Italian-Swiss and 30 per cent of the German-Swiss who hold the passports of both countries. Citizens of the Balkan states, including Kosovo, North Macedonia, Serbia and Turkey, along with Portuguese nationals were among those who mostly obtained Swiss citizenship through naturalisation.
The dual citizenship landscape among the Swiss cantons is diverse. Almost a half of the resident population of the canton of Geneva has dual nationality, while in Uri and Appenzell Inner Rhoden, only around five per cent have this status.
Why Switzerland?
 There is no place like Switzerland – the distinctness of Swiss culture owes not only to the courage of William Tell, the world-famous Matterhorn, its cheeses and chocolates – but also to an exquisite variety of amusing dialects and puzzling expressions.
 Switzerland boasts of various institutions, habits and interesting customs: its unbelievably complicated electoral procedures, its referenda and initiatives, its specialised economy with its banks and watches, its complicated federalism with cantons and communes and central government, its three official and four national languages, its neutral status, its astonishing wealth per head, its huge proportion of foreign workers, its efficient public services and its religious divisions.  
 If your aim to become a citizen of Switzerland, there are some important details to consider from an immigration perspective. In this blog, I will outline the steps to undertake in case you qualify for regular naturalisation.
 Regular Naturalisation
 The Swiss passport has the reputation of one of Europe's most difficult passports to obtain, but it does provide travelling benefits – the Swiss passport ranks fourth on the passport power index with visa-free access to 155 countries.
 If you take on Swiss nationality you can keep your current nationality/nationalities (and so have dual or more nationalities) as long as your country of origin also accepts it.
 Because of the ability to keep other nationalities in addition to the Swiss nationality, British citizens who do qualify are considering taking up Swiss citizenship following the UK's vote to exit the EU.
 General Requirements
 Foreigners with no direct blood ties to Switzerland through either birth or marriage must live in the country for at least 10 years before they can apply for citizenship. Years spent in the country between ages eight and 18 count double, but in this case the actual stay in Switzerland must be at least six years.
 The following stays are counted towards the duration requirement:
stays with permits B or C;
stays with a so-called "carte de legitimation" issued by the Federal Department of Foreign Affairs (FDFA) or with a Ci permit;
stays with F permit; however, only half of this length of stay is credited.
Cantonal legislation sets its own requirements regarding the length of stay in a particular Canton and commune. Usually, the regulations stipulate a minimum stay of between two and five years in the municipality and canton.
Another aspect to consider is the knowledge of a national language. A minimum spoken level of B1 and written level of A2 will be required. People on welfare and anyone with a criminal offence are theoretically excluded.
Apart from integration being verified via the knowledge of a national language, general integration in the Swiss way of life, familiarisation with Swiss customs and traditions, conformance with the Swiss rule of law, and no endangering of Switzerland's internal or external security are aspects that authorities do consider when reviewing a request for naturalisation.
Only if all of the above-mentioned requirements are fulfilled, the State Secretariat for Migration (SEM) will then grant a "green light" to an applicant's request to begin the naturalisation process but that does not mean citizenship is certain. Rather, cantons and municipalities have their own requirements that must be met, in addition to the general requirements discussed above.

What do we know about Geneva's dual citizens? - Published by The Beyond News (Breaking News).