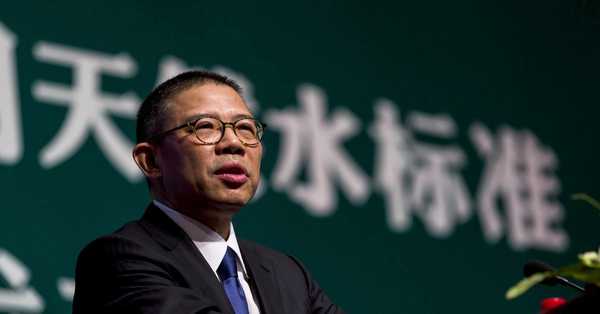 China's new richest person has added another $5.4 billion to his pocket
The chairman of bottled water company Nongfu Spring, is now the world's sixth richest person, with a $92.1 billion net worth thanks to a stratospheric rise in his company's share price. The Hong Kong listed firm went public last September; its stock has tripled in value over the past 4 months. Shares were up 6.5% on Tuesday alone. 
Zhong owns a massive 84.4% of the company; he and his wife's relatives own an additional 6.2% combined, and 63 other investors, primarily current and former employees and consultants, own a collective 6%. Although the company describes itself as having a 14% public float, in reality the public owns something closer to just 3.5%. The prospectus states that "Generally, at least 25% of the issuer's total issued share capital must at all times be held by the public." The company says it obtained a waiver from that requirement prior to listing.
Zhong also overtook Mukesh Ambani of India to become the richest person in Asia last month. Ambani, worth $76 billion, now ranks No. 10 on Forbes real time ranking of the world's billionaires.
A rags to riches story, Zhong reportedly dropped out of elementary school during China's Cultural Revolution and once worked as a construction worker, a newspaper reporter and a beverage sales agent. He set up the predecessor company to Nongfu in his native Hangzhou in 1996. The company, known for its bottled water, also sells other packaged drinks like tea and juices. 
In another sign of a frothy market, Colin Zheng Huang, the founder of Chinese online discounter Pinduoduo, gained $7.2 billion on Tuesday. The former Google engineer listed his company on the Nasdaq in July 2018. Its shares shot up by more than 12% on Tuesday, giving Huang a net worth of $66 billion. He is now the second richest person in China — ahead of Alibaba cofounder Jack Ma — and the No. 18 richest worldwide.
As the world's sixth richest person, Zhong is now behind only Amazon's Jeff Bezos, Tesla's Elon Musk, LVMH's Bernard Arnault, Microsoft's Bill Gates and Facebook's Mark Zuckerberg. He is ahead of other American titans including Oracle's Larry Ellison, Berkshire Hathaway's Warren Buffett and Google's Larry Page.