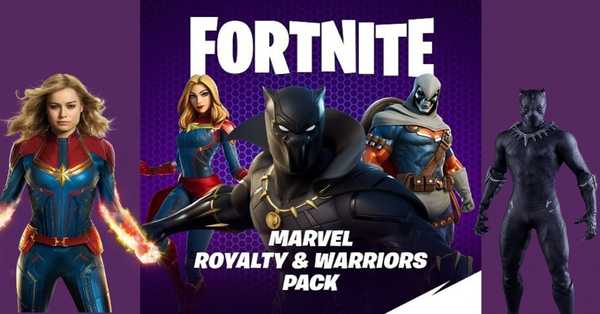 Fortnite Welcomes Black Panther, Captain Marvel & Taskmaster with the Marvel Royalty
Black Panther comes with the King's Cowl Back Bling, Vibranium Daggers Pickaxe, and Wakandan Skyrider Glider. Captain Marvel Arrives with the Kree Backplate Back Bling, Alpha Staff Pickaxe, and Power of Mar-Vell Glider. Taskmaster has Mimic's Shield Back Bling and Copycat's Sword Pickaxe. 

Furthermore, If you complete three free Black Panther quests - Play 10 Matches, Outlast 500 Opponents, and Play 5 Matches in Duo/Squads with Friends - you can also unlock the Wakanda Forever emote. 

In addition to the Marvel Royalty and Warriors Pack, beginning today, you can nab the Wakandan Salute Emote for free! This Emote is available for all players who complete Fortnite's all-new Wakanda Forever Challenges any time between December 21 and January 12! 

Marvel Comics superheroes the Black Panther and Captian Marvel have garnered a considerable amount of fanfare globally thanks to blockbuster movies with the same moniker. The comic characters are popular among the youth and it's no surprise that Epic Games has decided to introduce the two as skins in its multiplayer game Fortnite 

Although Fortnite just wrapped up a season that focused intently on Marvel characters (including Galactus), the newest season mashes up various universes, and you'll now see Captain Marvel and The Mandalorian available as new skin options. 
This season still has plenty of time left, and will conclude on March 16, 2021 
Years after release, Fortnite continues to surprise with its content. Star Wars and Marvel are nothing new for this game, but the depth that Epic has achieved in both universes truly is something to behold. Here's hoping the partnership with Disney remains strong and we see a Boba Fett skin as a part of this latest season.
Old school meets new school tech. With Black Panther, you'll be able to snag the Black Panther Outfit with Kinetically Charged Style, Vibranium Daggers Dual Pickaxes, Wakandan Skyrider Glider, and King Cowl's Back Bling with Kinetically Charged Variant Style. Go higher, further, faster with Captain Marvel because her pack includes the Captain Marvel Outfit with Empowered Variant Style, Alpha Staff Pickaxe, Power of Mar-Vell Glider, and Kree Backplate Back Bling with Empowered Style. Lastly, with Taskmaster, score the Taskmaster Outfit, Mimic Shield Back Bling, and Copycat's Sword Pickaxe. 

The salute was the iconic greeting in the movie franchise that really caught up with fans all over the world. The Black Panther was a box-office hit and grossed $1.35 billion. 

It was during the last season of Fortnite when a large Black Panther statue appeared on the map as was the theme during that time. Players from across platforms could sift through multiple Black Panther powers to add to their existing abilities. Despite the Marvel theme-based gameplay, players could not find their avatars in the app store. 
There's a possibility that the Black Panther avatar was slotted for a release last season but was postponed after the sad demise of Chadwick Boseman this year, who played the role of the Black Panther in the movie released in August 2018. Marvel is planning to come out with the sequel to the Black Panther movie although no news on who will be cast to play the iconic character.