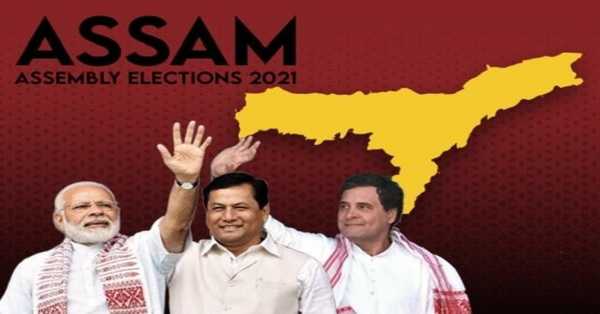 Assembly elections 2021: Exit polls project tight race in West Bengal, put ruling BJP ahead in Assam
The 2021 Assam Legislative Assembly election was the 15th quinquennial legislative assembly election held in the Indian state of Assam from March 27 to April 6 in three phases, to elect 126 MLAs to the 15th Assam Legislative Assembly. The counting of votes will be done on Sunday, 2 May 2021 whereas the date of completion is Tuesday, 4 May 2021. The term of the previous Fourteenth Legislative Assembly of Assam will end on 31 May 2021.
Here is a list of the key candidates:
1. Sarbananda Sonowal - BJP
Incumbent Chief Minister Sarbananda Sonowal contested from Majuli - an ST reserved constituency against Congress' Rajib Lochan Pegu. 
2. Himanta Biswa Sarma- BJP
Health Minister and BJP strongman Himanta Biswa Sarma is one of the high-profile candidates of the Assembly polls. Sarma fought from Jalukbari for the fifth consecutive term. Congress pitched Romen Ch Borthakur against Sarma from the constituency. 
3. Ripun Bora- Congress
Congress Assam Pradesh chief Ripun Bora contested from Gohpur constituency. The BJP fielded Utpal Borah against him. Speculations are rife in the political circle that if Congress-led Mahajot comes to power in the state, Congress MP Gaurav Gogoi can be the party's Chief Ministerial candidate. If Congress wins, AIUDF chief Badruddin Ajmal is expected to turn out to be the kingmaker in these polls.           
Assam Assembly Election 2021 Exit Poll:
 With the last phase of election getting over tomorrow in West Bengal, all eyes are now on the exit polls that will be out only after the polling is over on April 29. Assam had gone to polls in three phases on March 27, April 1 and 6. The state recorded 82.04 per cent voter turnout. As per the Election Commission, exit polls can not be published or broadcast till the polling of the last phase is over. The eight and last phase of election in West Bengal will be conducted on Thursday, April 29. Once the polling is officially over, exit poll numbers can be published and broadcast after 7 PM.
Assam is currently being ruled by the BJP-led NDA, which had won 86 of 126 seats in 2016. This time, the BJP is taking on a grand alliance of eight parties including Congress and Badruddin Ajmal's AIUDF. From NDA, the BJP is contesting on 92 seats, Asom Gana Parishad 26 and United People's Party Liberal on 8. From the Opposition side, the Congress is contesting on 94 seats, AIUDF on 14, Bodoland People's Front on 12, and Communist Party of India (Marxist) on 2. Rupun Sarma-led Communist Party of India (Marxist–Leninist) Liberation, Ajit Kumar Buyan's Anchalik Gana Morcha, and RJD is contesting on one seat each.
Assam Legislative Assembly election 2021: BJP - Sarbananda Sonowal, INC - Debabrata Saikia, AJP - Lurinjyoti Gogoi: Result date, majority seats, exit poll results, counting time and many more, publsihed by - The Beyond News (Politics)