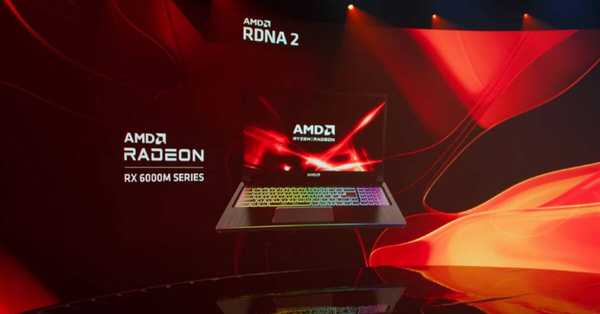 AMD launched new products at the Computex 2021 show
AMD launched new products at the Computex 2021 show, including the new Radeon, AMD's design framework and AMD's most reliable technology, FX Super Resolution. Apart from this, processor companies like NVIDIA, AMD and INTEL took part in this show.
AMD revealed at CES 2021 that the Radeon RX 6000 M series is designed to resemble Nvidia's RTX 3000 series GPU. NVIDIA is considered better than AMD processors. But AMD has claimed that this update will make the Radeon RX 6000 M series similar to Nvidia's RTX 3000 series.
Gaming experience will increase
With this new update, AMD's next generation RDNA 2 will move from desktop to laptop architecture. In which three chips RX 6800M, RX 6700M and RX 6600M have been installed. AMD says that the introduction of laptop GPUs from the Radeon RX 6000 M series will enhance the gaming experience in the design of the laptop. Which will make it easier to work with global companies making laptops.
laptop will be lighter
All three AMD series are now based on RDNA 2-. In which the GPU in the RX 6000M will consume 43 percent less power than the RDNA of the previous RX 6000M and will increase its speed performance by one and a half times.
The second series RX 6800M is touted as "the fastest AMD Radeon GPU for laptops". Which is designed for 1440p/120 FPS gaming. It has the capacity to configure more than 145W.
While the third series RX 6700M is built for 1440p/100 FPS gaming with 135W. Whereas the entry-level RX 6600M offers up to 100W of 1080p/100 FPS gaming. These will now make it easier to make light laptops.
Start getting this graphics card from today
These features of AMD specifically include AMD Infinity Cache and DirectX Tracing (DXR). The Radeon RX 6000M series mobile graphics cards are available starting June 1st (today) and are expected to be among the most premium gaming laptops from Asus, HP, Lenovo, MSI and other major OEMs this year.
Advantages of AMD's Design
In this, AMD will partner with the original manufacture of gaming laptops. So that its hardware design can be made more active. Initially, the Radeon RX 6000 will be for laptops based on M series mobile graphics and Ryzen 5000 series mobile processors. For a laptop to be certified, it must have a screen with at least 300 nits brightness. Must have a refresh rate of 144Hz and free sync support. Must cover 100 percent sRGB or 72 percent NTSC.
Apart from this, the laptop will be able to manage the temperature up to 40 degrees. These laptops will be powered by AMD's Smart Access memory and SmartShift technology, which will allow easy playback of up to 10 hours of video. - Published by The Beyond News (Technology).